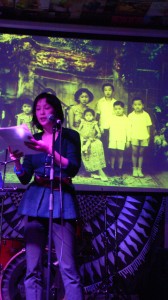 I'm telling you, Harlem is where it's at! It was exhilarating to be reading alongside novelists Stacey D'Erasmo and Michael Thomas at the Shrine for the First Person Plural Reading Series. Here is their recap:
---
Monica Ong combined projected images and poems to stunning effect. Her first image was a childhood photograph of her mother gathered with her mother and six siblings. The accompanying poem revealed that her mother was one of the three "boys," dressed and staged so that the family would not lose face from a surfeit of girls. Her next images and poems brought us into human physiology, giving voice to the silent mechanisms of the body– to the body's frightening failures and the way we fail our bodies through cultural mores and silence. She closed with a moving poem written for the FPP reading in response to the Sandy Hook shootings.
---
Not only did poets from my Kundiman family come to support, but I was also reuinited with my writing professor from RISD, Wendy Walters, who now teaches at the New School. My best friend from college, Kathy, and her mom also made the long trek to catch the reading as well. The crowd at the Shrine was incredibly warm and welcoming, especially on a cold January evening, and the FPP hosts were just lovely. Thank you Stacy, Amy, and of course, Wendy!